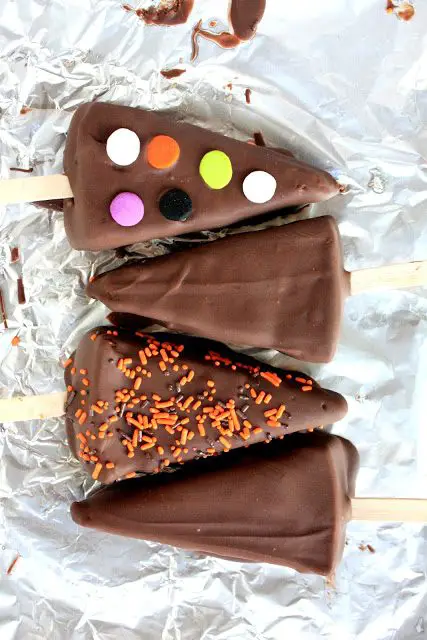 Do you want an easy, decadent dessert that is sure to elicit ooooohs and aaaaaahs from friends and family? If the answer is "Yes", then you've come to the right place, my friend! Food Network magazine (July/August 2011) mentioned a place (un-named) in California that serves chocolate-dipped cheesecake and I knew immediately that I would be making my own chocolate-dipped cheesecake, on a stick, of course:)
To make it super simple I bought a cheesecake, and as a bonus it was already sliced into wedges, just waiting to be dipped. I picked a cheesecake sampler which included fabulous flavors: peanut butter, strawberry, turtle, and chocolate chip..something to please everyone.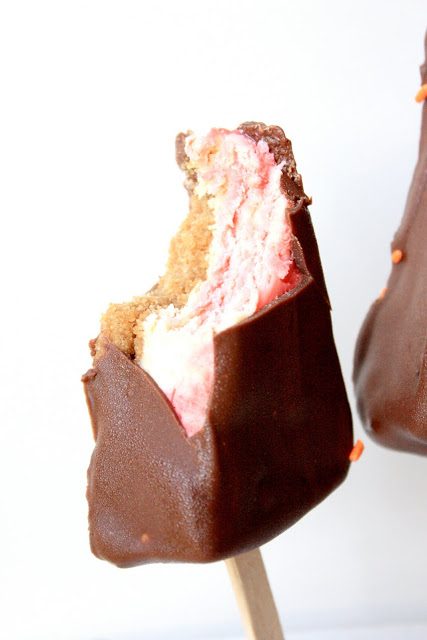 I chose the strawberry swirl version to try, and it was deeeeelicious! What fun it would be to cover each bar with an ingredient that would hint to what's under the chocolate~peanut butter chips, mini chocolate chips, dehydrated strawberries, or a drizzle of caramel. I think I may try this in the fall with a pumpkin cheesecake. I can just imagine…
Chocolate~dipped Cheesecake Bars
Ingredients:
1 frozen store-bought 9-inch cheesecake, cut into 12 wedges 2 pounds melting chocolate (I used chocolate bark)
Directions:
1. Remove frozen cheesecake from the freezer and insert a popsicle stick about 2-inches into each wedge(If it's difficult, make a small slit with a sharp knife to get it started). 2. Place the cheesecake back in the freezer until it is frozen solid. 3. Melt the chocolate according to package directions (I used the microwave). I placed the chocolate in a deep, small-ish bowl to make dipping easier. Stir melted chocolate until smooth.
4. Line a baking sheet with aluminum foil (shiny side up). Take a cheescake pop from the freezer(one at a time), hold it by the stick and dip into the chocolate (I used a spatula to make sure each was completely covered). Let the excess chocolate drip off over the bowl, and then lay the bar on the aluminum foil. If you want to add decorations, do so at this point. Repeat with each wedge. Freeze (if needed) for about 15 minutes. Serve and enjoy!

Linked to:
Sweet Indulgences Sunday
Tasty Tuesdays
These Chicks Cooked
Inspiration Friday
I'm Lovin' it Fridays
Weekend Wrap Up Party
Friday Favorites
Sweets for a Saturday