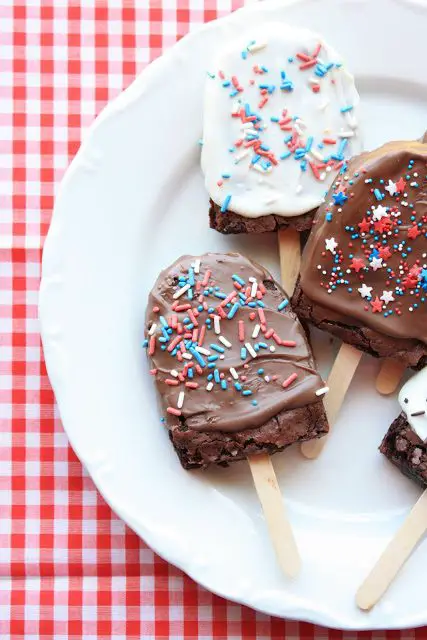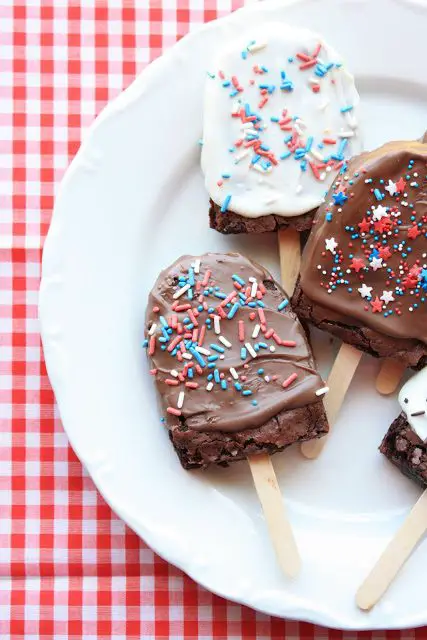 I was instantly inspired to make these brownie bars when I spied popsicle brownies on the blog, Lavender Clouds (Be sure and check out her great blog!). She had originally found the idea on Crazy Domestic, which I was happily introduced to (check out her popsicle brownies). They were so colorful and pretty, but I decided that I wanted to cover mine in chocolate and vanilla candy melts, which makes them look more like ice cream bars than popsicles:)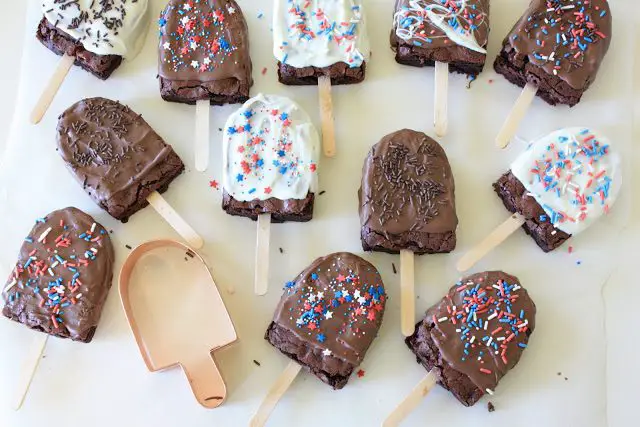 I made a triple batch of Ghiradelli's Triple Chocolate Brownie Mix, in a half sheet (16″ x 12″) pan. I lined the pan with parchment paper making sure it was long enough to hang over the edges, so that I could lift the whole pan of brownies out, once they had cooled. Doing this made the brownies a lot easier to cut out with the cookie cutter(shown above, is from Copper Gifts). I cut off each "handle' on the brownie and inserted a popsicle stick in its place.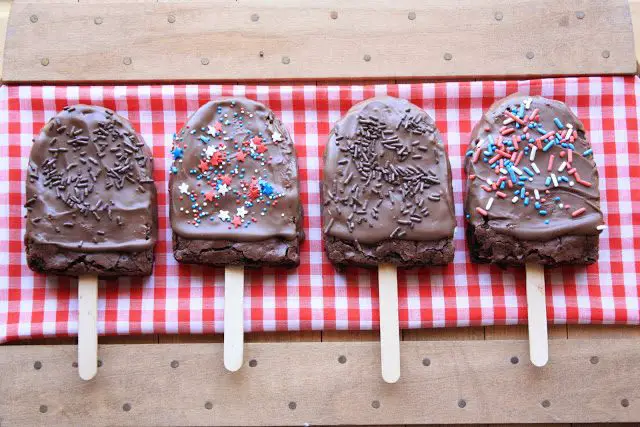 I decided to decorate the bars with patriotic sprinkles and save them (in the freezer) for Memorial Day weekend, at least that's the plan;) And don't forget about Flag day and the Fourth of July! Of course, you can dress them up any way that you'd like!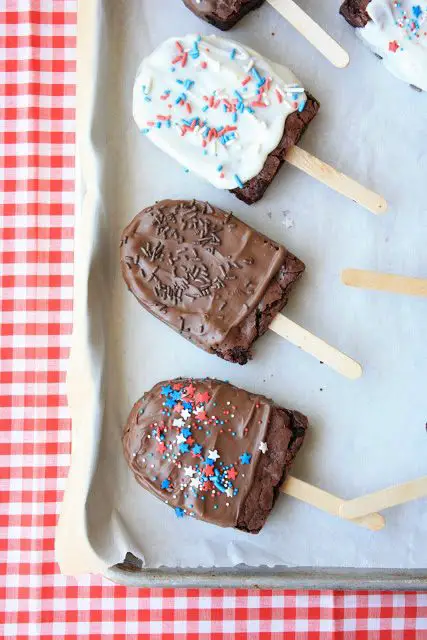 The brownie bars are 3.5″ x 2.5″ so they are just the right size~not too big, not too little, just like ice cream bars:) I cut out a dozen bars and set aside the brownie spare parts to save for brownie pops. Hooray, I'm ahead of the game:!
The brownie bars are very sturdy and easily "stay put" when held by the stick. So cute, and tasty too!
Brownie Bars
Ingredients: •1 box brownie mix or your favorite homemade recipe (I tripled it for my version)
•7 oz. vanilla candy melts, and 7 oz. chocolate candy melts(about a half bag of each~Wilton's). I preferred the chocolate melts.
•popsicle sticks •sprinkles
Directions:
1. Make the brownies according to the directions (Remember to line the pan with extra parchment so that they can be lifted out) and let them cool completely.
2. Cut brownies with a cookie cutter (or without).
3. Push popsicle sticks into the bottom end of the brownie. Lay brownies onto wax paper or parchment.
4. Melt candy melts in microwave safe bowl stirring every 30 seconds until smooth. Add food coloring if desired.
5. Spoon melted candy melts on top of each brownie and spread over the top and sides (I didn't do the back side). It helped when I held the bar by the stick, to spread it over the top and sides.
6. Sprinkle on the sprinkles(of course) and let the covering harden.
ENJOY!!!
Linked to:
Inspiration Friday
Foodie Friday
I'm Lovin' it Fridays
Weekend Wrap Up Party
Sweet Tooth Friday