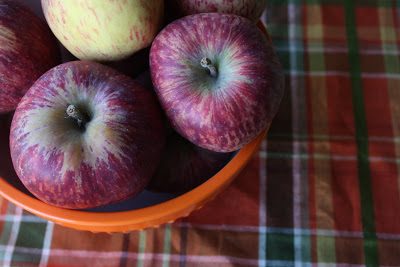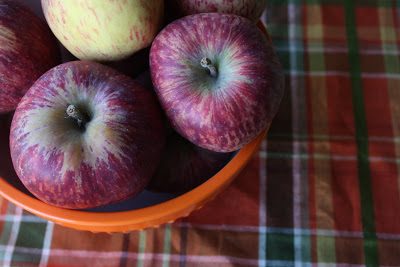 My friend brought me over a bag of fresh apples from her grandma's tree last week:) I don't know the variety of apple, but they were a bowl of beauties! I decided to transform them…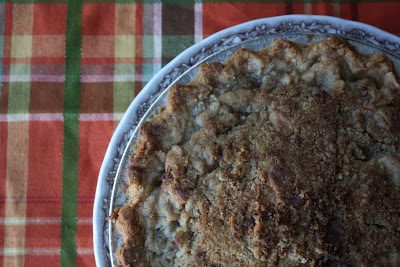 Of course I made a pie, a french apple pie…the kind with the yummy streusel topping:) Mmmmmm:) Soooooo good!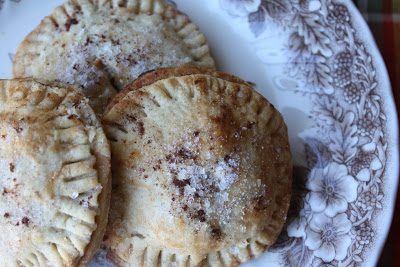 With the leftover crust(and a bit of pie filling) I made a few mini apple hand pies:) They were flaky, tasty, and perfect for taking to the football game to share:) My 2 year old grandson still prefers my cookies!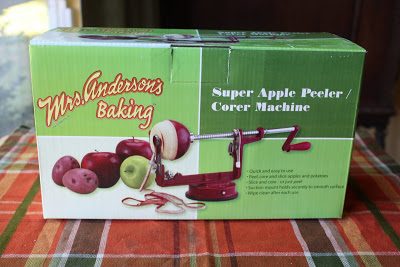 And now… to my FIRST GIVEAWAY!!! I have had this item in mind for awhile as a giveaway and I found it at a local farm stand. It's not exactly like the one I own(made by Pampered Chef), but the only difference seems to be the way you anchor it. Plus, this one is a cheery apple RED! You can see my handy- dandy apple(and potato) peeler-corer-slicer(long name!) in action right here. This is a real time-saver!
If you've always wanted one of these gadgets, and even if you haven't, now is your chance to get your very own, brand new handy-dandy apple peeler-corer-slicer for FREE! All you need to do to enter is leave a comment and note your favorite recipe that uses apples:) Remember to leave a link to your blog, or your email address, so that I may contact you if you win!
The DEADLINE to enter is Tuesday, November 17, 5 :00pm Pacific Time.
The winner will be chosen through random.org and announced the evening of November 17th.
GOOD LUCK! (See below for apple pie recipe)
French Apple Pie: (From Betty Crocker's Cookbook)
1/3 to 1/2 cup sugar1/4 cup all-purpose flour1/2 teaspoon ground cinnamon1/2 teaspoon ground nutmegDash of salt8 cups thinly sliced peeled (tart) apples (8 medium)1. Heat oven to 425 degrees. Make pastry. (recipe follows)2. Mix sugar, flour, cinnamon, nutmeg and slat in large bowl. Stir in apples. Turn into pastry- lined pie plate.3. Sprinkle apple mixture with
Crumb Topping:
Mix 1 cup all-purpose flour, 1/2 cup packed brown sugar and 1/2 cup firm butter until crumbly.
4. Bake 50 minutes. (Cover topping with aluminum foil during last 10 minutes of baking to prevent excessive browning.)
Pastry for Pie Crust (From my friend, Stephenie…works every time!)
1 cup vegetable shortening1 2/3 cups all-purpose flour1 teaspoon saltMix ingredients together and cut with pastry cutter until pea size. Set aside.Meanwhile, mix together
1/3 cup AP flour and 1/4 cup of water and add to above mixture.
Mix and roll out.
(This recipe is enough for a double crust.)