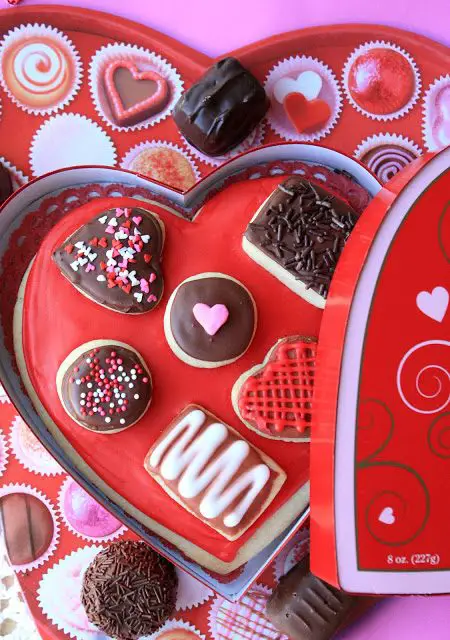 This cookie treat has been on my mind for awhile, and I finally had time yesterday to do something about it! I just returned home a couple of days ago after visiting some of the munchkins in Texas for a week. It was a lot of fun and we had a special tea party which I will post about in the very near future:)
This "box of chocolates" cookie is on the big side, measuring 6-inches by 6-inches(I used my biggest heart cutter)! Coupled with the fact that six small cookies (candies:)) top it off, it's definitely a treat to share~ perfect for Valentine's day.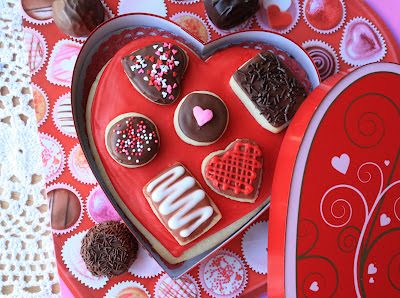 It's very simple and straightforward to make too. Just make your favorite sugar cookie dough (chocolate dough would have been fun for the candies). Use a large heart cutter to represent your box of valentine candy, and other small cutters for the candy cookies. I actually only had small round cutters, and cut out the little hearts and rectangular shapes by hand. Bake cookies as directed and let cool.
Now the fun part…decorating! Whip up a batch of royal icing, divide it up and add the food colorings of your choice. I stuck with the classic valentine colors of red, white and pink. I also made two shades of brown: "milk chocolate" and "dark chocolate":) I wish I had seen Sugarbelle's recipe for chocolate royal icing yesterday! It would be PERFECT for this cookie project!
First, ice the individual small candy cookies. Top some with sprinkles while the icing is still wet, or with more icing details (after the first layer of frosting dries). While the small cookies are drying, ice the giant heart cookie. I placed the "candies" on the giant heart cookie while the icing was still wet, so that it's all one unit. My cookie is a simple design, but of course you can get as detailed, fancy, and creative as you'd like. I bought an actual box of candy to house the cookie. I guess I'll have to eat the candy, or make something else with it:) If a box isn't available, I'm sure a cellophane bag tied with a ribbon would look great! It will still look like a box of chocolates:)
Have fun and share some LOVE with a box of chocolates~cookie style!
I am bringing my Box of Chocolates Cookie to the Virtual Valentine's Party at Dollhouse Bake Shoppe on
Feb. 5! Linked to:
I'm Lovin' it Fridays
Inspiration Friday
Weekend Wrap Up Party
Sweets for a Saturday
Saturday Seven Party
Crazy Sweet Tuesday