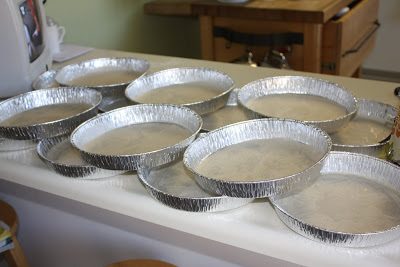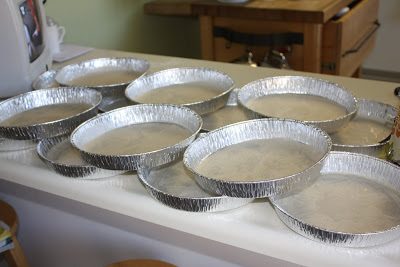 For Jim's birthday(April 19) I decided to make a 12 layer cake(to commemorate 12 more months)! I found the link to the recipe on Bakerella's blog:)I purchased these aluminum pans(a lot more convenient than baking, washing and drying my few round cake pans over and over) which can be reused.To prepare them I buttered the pans and then put parchment rounds(can be purchased already round or you can cut it out from the roll- staple the pieces together and then cut all at once) in each pan, then buttered and lightly floured each one.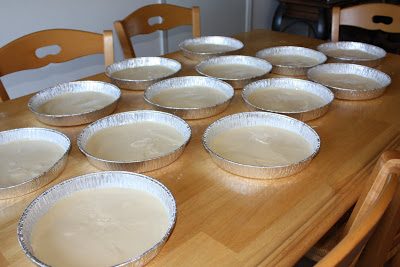 I put a generous 2/3 cup of batter into each pan, smoothing out each one as evenly as possible. I baked 3 pans at a time for 12 minutes in a 350 degree oven.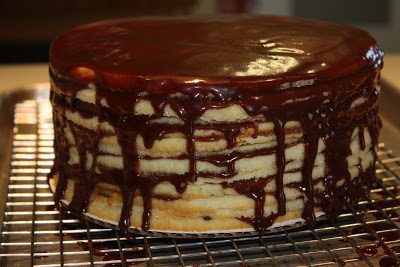 This was the fun part! Place the first cake layer on a round cake board, then put that on a wire cooling rack, placed on a jelly roll pan to catch the drippings:) Just stack each layer, spread some chocolate icing(more like syrup) until all layers are stacked. Looking luscious!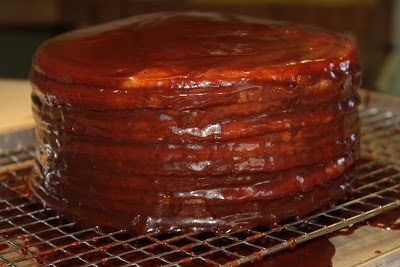 Finish up the icing by pouring the remainder of it all over the cake and covering it completely-Yum! The original recipe stops here, but( like Bakerella) I wanted to give it a more streamline look and add more chocolate by adding a final buttercream frosting! 🙂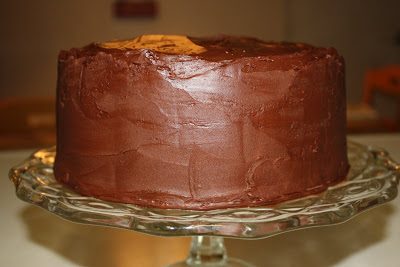 I used the recipe that's on the Hershey's baking cocoa container! You can never have too much chocolate! I like the finished look with the buttercream:)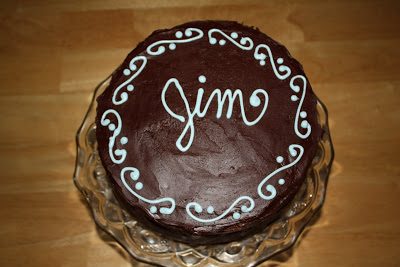 I definitely need more practice with the writing! I don't know if you can tell, but it's light blue:) I used royal icing(with a drop of blue paste food coloring) for the name and trim.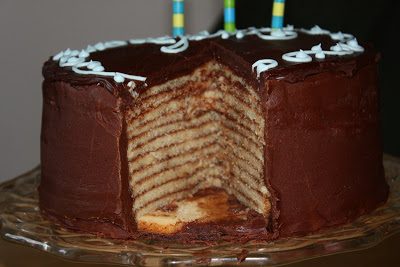 This was the other fun part! Cutting into the cake made all the effort worth it! If you happen to count the layers, you may only get up to 11, but there is actually 12. I didn't cut all the way down to the board when I cut the first piece, so layer #12 is still on the cake board:(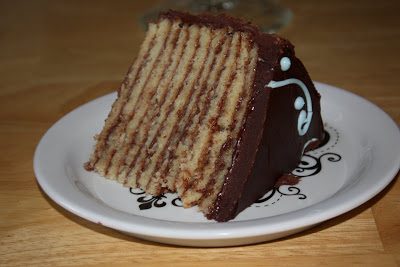 This first piece went to the appreciative birthday boy!!! I think he liked it! 🙂