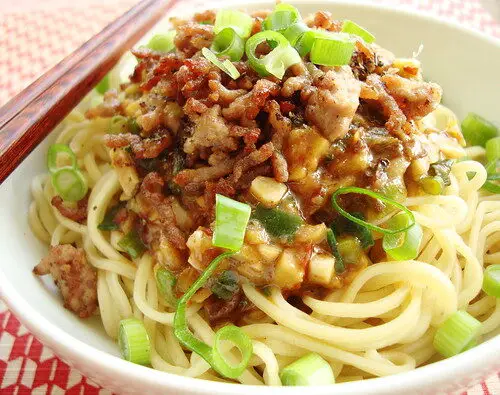 Reading Eileen Wen Mooney's Beijing Eats a short while ago inspired me to start cooking more Chinese food. I chose to start with dan dan mian, a Sichuan snack dish or 'xiao chi' (small eats) of 'noodles dressed in a mixture of sesame paste and peanut sauce with a little chilli oil'. According to Eileen, the dish is also known as 'over the shoulder noodles' because of the 'street vendors who served the dish from their portable kitchen dangling off a stick balanced on their shoulders'.

Sichuan food is very popular around the world, and in London alone, we are now quite spoilt for choice, although this wasn't always the case. Restaurants like Snazz Sichuan/, Bar Shu and Chilli Cool, to name but a few, now serve up fiery and not so fiery dishes from fish-fragrant aubergine, gongbao jiding (Gongbao chicken) to dry-fried green beans and the every popular hot pot.

I love noodles of any description, and as I've had dan dan mian a few times, I thought I'd try and make this at home. I also made two versions, one with pork and one vegetarian, so that the vegetarian husband could have some too. He loved the vegetarian dan dan mian at Xi Yan in Hong Kong so much that he went back for more.

The first attempt at adapting Ken Hom's recipe in his classic The Taste of China (1990) failed miserably because I made the sauce too runny by not measuring the vegetable stock properly. In order to compensate for this, I threw the noodles into the wok, mixing them with the sauce. But I actually wanted the noodles and sauce to be served separately, resembling the Xi Yan dan dan mian in the above photo (where the chilli oil sits right at the bottom, covered with a layer of noodles, then topped with the Chinese sesame paste / peanut butter sauce), although Ken's recipe calls for the chilli oil and Chinese sesame paste / peanut butter to be mixed beforehand. There are many, many methods of making dan dan mian, but I just happened to adapt Ken's.

The following recipe adapted from Ken Hom's version makes both the pork and the vegetarian versions at the same time (his version is strictly non-vegetarian).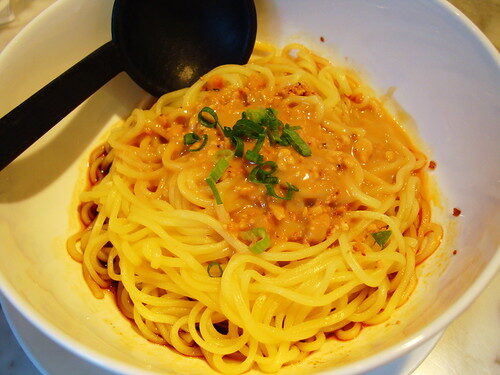 Ingredients: (serves 2 to 3 as a single dish)


Pork 'garnish' –

225g / 8oz minced pork (I minced a piece of pork tenderloin by hand the first time, and bought free range organic mince the second time)

1 tbsp dark soy sauce

½ tsp salt

groundnut oil
Sauce –

3 tbsp finely chopped garlic

2 tbsp finely chopped peeled root ginger

5 tbsp finely chopped spring onion

2 tbsp Chinese sesame paste or smooth peanut butter (I used the latter, as I happened to have some, but it's best to use the Chinese sesame paste, which is made from roasted sesame seeds)

2 tbsp dark soy sauce

2 tbsp chilli oil (I bought a small jar of Sichuan chilli oil from a Chinese supermarket)

225 ml / 8oz chicken stock (I made my own vegetable stock instead)

2 tsp salt
thin dried egg noodles

1 tbsp Sichuan peppercorns, roasted and ground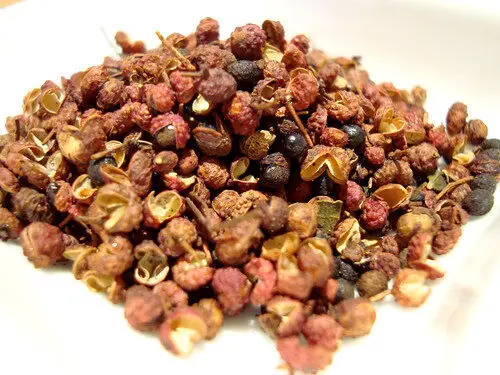 What to do next:

1. I decided to use a fresh vegetable stock instead of Ken's chicken stock. If you decide to do the same, start making the stock first so that it simmers away while you prepare the other ingredients. All I used was chopped carrot, celery, onion, one large bay leaf and a pinch of salt.

2. Mince the pork and add to small bowl along with the soy sauce and salt, mixing well. Leave to marinate for 15 minutes (Ken doesn't mention this, but it will give the pork more flavour).

3. Heat up water in a saucepan in preparation for cooking the egg noodles. Turn off heat once it reaches boiling point and cover with lid. You'll save valuable time later.

4. Chop up garlic, ginger and spring onions as finely as possible and set aside. Roast Sichuan peppercorns (I chose not to do this, being lazy, but it's important to roast them as the flavours will be properly released this way) and grind with pestle and mortar. Set aside

5. Heat wok or frying pan, add oil and fry pork for about 4 or 5 minutes until crispy and dry. Ken's recipe calls for deep-frying, but I found shallow frying worked just as well. Drain on kitchen paper.

6. Reheat water for the egg noodles. I then used another wok to make the sauce. Heat 2 tbsp oil and stir-fry garlic, ginger and spring onions for 30 seconds to a minute. Add Chinese sesame paste or peanut butter, soy sauce, chilli oil, salt and chicken or vegetable stock. Simmer for 4 minutes.

7. Cook egg noodles and drain. Divide into bowls. Add sauce, garnish with pork and Sichuan peppercorns and eat immediately.

I hope you'll like this recipe! It took a little practice to coordinate everything, but I found it much easier the second time round. I think the vegetarian version is rather tasty, particularly if you want to give the fried meat a miss…

NB Coincidentally, when I was looking up recipes after making this on the use of Chinese sesame paste/peanut butter, I found that Diana Kuan from Appetite for China also adapted Ken Hom's recipe, whereas Fuchsia Dunlop uses neither.

See more Chinese recipes on Lay The Table.
@ Lay The Table