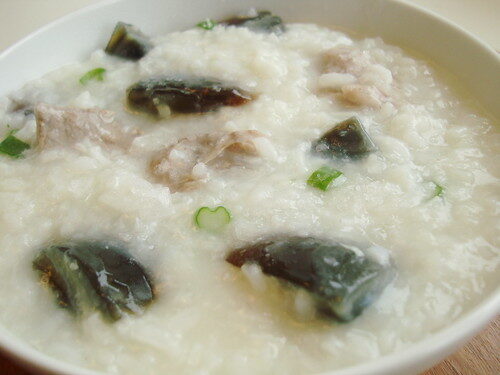 I've always loved my mother's congee. She makes it very simply, mostly with pork or chicken and shreds of dried scallop. I also had congee for breakfast every day on my recent trip to Hong Kong, when I discovered it was one of the many breakfast options at my excellent hotel. So when I bought some thousand year old eggs recently to eat with chilled tofu, I saved a couple to make a classic, congee with pork and thousand year old egg.

Congee is actually really easy to make, so I don't know why it's taken me so many decades to make it for the first time. I did wonder though what type of rice to use when I read in a Chinese cookery book that one should use a combination of short-grain and glutinous rice. I couldn't recall my mother using either of these types, so I consulted her and a few other foodies, and came to the conclusion that I could and should just use Thai jasmine rice.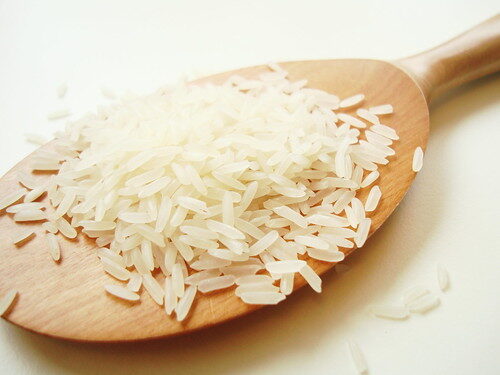 Ingredients: (approximate amounts only as I rarely measure anything)
100-125g Thai jasmine rice
3 to 4 spring onions, finely chopped
1 or 2 thousand year old eggs
125g pork loin or fillet
cornflour
dark soy sauce
Chinese white vinegar
sugar
sea salt

Chop up the pork into pieces (about 2cm or so). Marinade in a bowl for about 30 minutes with a little cornflour, dark soy sauce, Chinese white vinegar, salt and sugar. You don't have to do this, but it adds flavour to the meat and of course to the congee.

Add rice to a saucepan and rinse in water a few times. Add enough water to cover the rice, and don't worry about using a lot, because I had to keep adding water during the cooking process. Bring to the boil, then turn heat down to low and cover saucepan with lid, but not completely.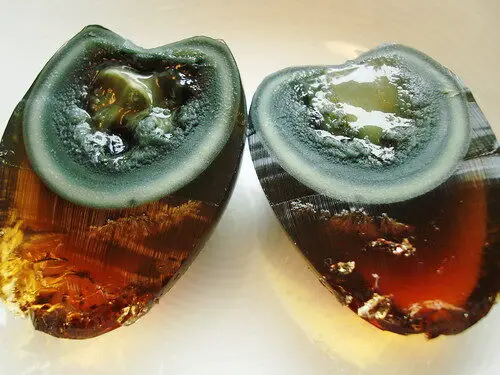 Simmer for about 20 to 25 minutes, stirring regularly. Make sure there is always more than enough water, to stop the congee from burning.

Peel the thousand year old egg(s) and chop into small pieces, about 2 cm. If the egg pieces are too small, they will disintegrate in the congee and you won't be able to taste the egg properly.

Add the pork and chopped egg and continue cooking for another 10 to 15 minutes, then add the chopped spring onion. People prefer varying levels of consistency when it comes to congee. I don't like watery congee, but then I don't like it to be too gloopy or stodgy either. Somewhere in between is perfect.

Add salt to taste (you can also add a little ground white pepper but I didn't have any) and serve hot. It's very filling and makes the perfect comfort food. I had two bowls for brunch!

See more Chinese recipes on Lay The Table.
@ Lay The Table