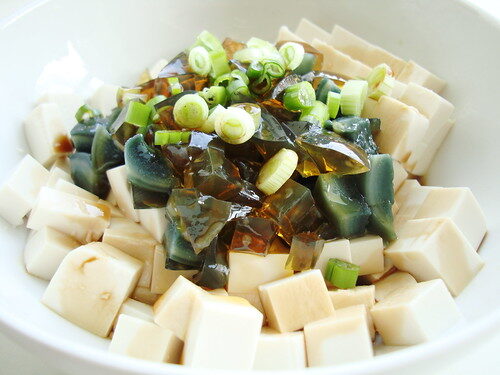 On our traveleating trip to Hong Kong, Macau and Beijing last October, I was reminded of how much I enjoy the unique taste of thousand year old egg (if you don't know what thousand year old egg is, it's all explained in this earlier post). I had it first at Yung Kee in Hong Kong, sliced in half and served with gari (sushi ginger). Then I had it in Noodle Bar in Beijing, chopped into small cubes and served with chilled tofu and sesame oil (see photo below). It was a very simply prepared side dish that I've wanted to recreate ever since. As with most dishes, there are various ways of making this.
I've never bought thousand year olds eggs before to prepare at home, so I went to investigate at See Woo Chinese supermarket on Lisle Street in Chinatown (London). They are sold in cartons of 6, just like you would buy normal eggs, and cost just under £4.00. They last for months if stored in a cool, dark place, so don't worry about having to use them all in one or two dishes.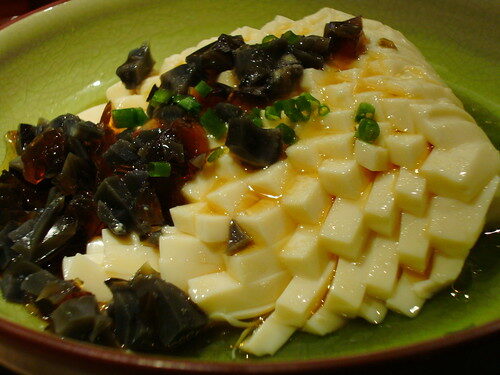 Ingredients: (serves 2 as a side dish or snack)
1 block of Japanese silken tofu (you can also buy tofu fresh from a Chinese supermarket, but the Japanese pre-packed tofu is so convenient as you can store it in a cupboard for months until you need it. Pop into fridge to chill before cutting it up)
1 thousand year old egg
1 spring onion
sesame oil
light soy sauce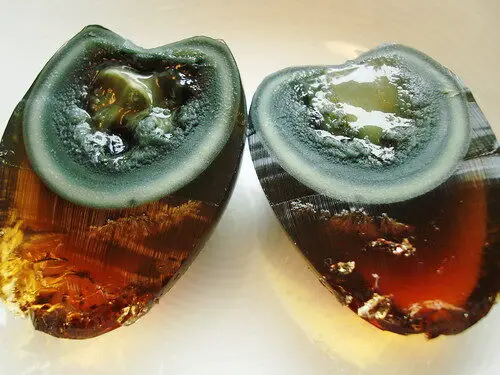 What to do next:
Drain the block of tofu and cut into small cubes. You don't have to do this, but it's easier to serve and eat if it's chopped up this way. Or you could try and recreate the above pineapple effect! Add to a small bowl.
Peel a thousand year old egg and chop into small pieces. The yolk is lovely and gooey, so it can get a bit messy. Arrange on top of the tofu.
Finely chop a spring onion to use as garnish.
Drizzle some sesame oil and light soy sauce over the egg and tofu, then add the spring onion. Taste before adding more, as it shouldn't taste too strong.
Thousand year old egg isn't to everyone's taste, but I wouldn't dismiss it before trying it once in your lifetime! You might also like it in congee, which I made recently.
See more Chinese recipes on Lay The Table.
@ Lay The Table
Tags: Beijing, China, Chinese, cookery, food, Hong Kong, recipe, Taiwanese, thousand year old egg, traveleating, vegetarian