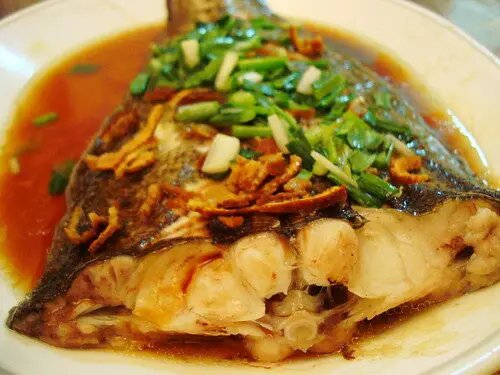 My mother and I haven't lived together for many years now, so I always look forward to her home-cooked meals. They remind me of my childhood, so when we see each other, I always ask her to cook the same few favourites that I grew up on. I never get bored of them.
Every Chinese family has their special recipes and slightly different methods of preparing a particular dish. Dinner table conversations are all about where the ingredients were bought, and how each dish was created. Here are my favourites (click on each for full recipes). Together, they would make a substantial meal, served with steamed white rice. In fact, this would be my perfect home-cooked meal!
Steamed fish – all Cantonese love fish, and steaming it is the most popular and healthiest way to eat it. My mother steams all types of fish – trout, salmon, skate, turbot etc. It's quick to prepare, though initially it can be tricky to get right. It's perfect with ginger, spring onions, soy sauce and a dash of oil. These ingredients all serve to enhance the flavour and freshness of the fish, which must be served and eaten piping hot
Egg with mince meat – another simple dish that's healthy, nutritious and filling. You can eat this on its own or served as part of a meal.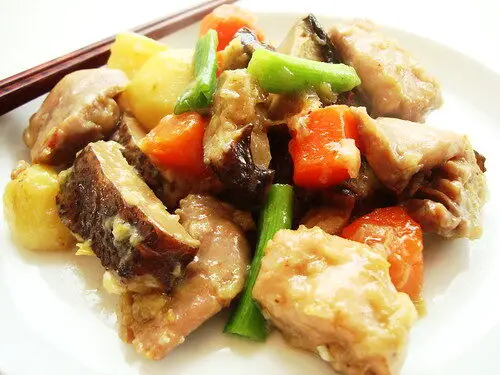 Chicken and potato stew – I could eat this every day! I can't remember when my mother first made it, and I personally don't know any other Chinese family who eats this. I haven't come across it in any cookery books either. One of my aunts learnt how to make it for me so that I could eat it when my mother wasn't around, but it was never quite the same. It's got to be cooked with a whole chicken, so that you get a bit of breast and a bit of thigh. And it tastes even better the next day when the sauce has thickened up
Steamed egg – this is such a simple dish, but cooked right, it's stunning – silky smooth and light. Having it plain is just as delicious as adding an ingredient or two. I love it when my mother uses shredded dried scallops, a luxury! But minced meat is lovely too
Tofu with dried scallops and Chinese mushrooms – tofu can be a bit bland, but it's a perfect accompaniment for these amazing ingredients – dried scallops and dried Chinese mushrooms. The higher the quality, the better these will taste
I hope you'll try and make these dishes, or this entire meal in fact! Let me know how you get on…
Click for all Chinese recipes on Lay The Table
@ Lay The Table