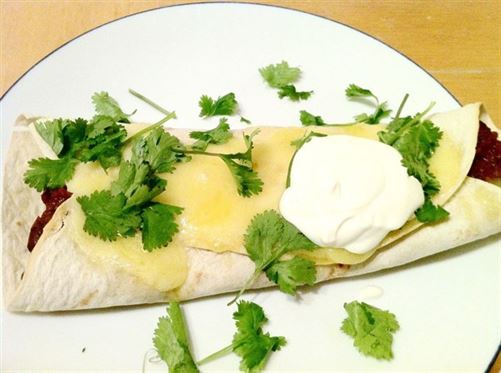 The theme for this weeks Recipe Shed is WRAPS. The list of ingredients in this dish appear quite onerous, but they all come together in perfect harmony. Its a trust thing. Have I ever let you down before? OK, there was that one time, but I thought wed got over that. Please dont bear a grudge. It doesnt become you.
Serves 4
2 tbsp olive oil
500g quality mince beef
1 onion, finely chopped
3 garlic cloves, chopped
1 can chopped tomatoes or passata
2 tsps chilli powder, or more/less, according to taste
1 tsp cumin powder
1 tsp cayenne pepper
2 tsp freshly ground black pepper
1 tsp salt
1 tsp Marmite
1 tsp aniseeds
1 tsp Worcestershire sauce
1-2 tsp drinking chocolate powder
1 can kidney beans, drained
8 shitake mushrooms, roughly chopped
Knob of butter, to finish chilli
4 large tortilla wraps
100g grated Cheddar
2 tbsp fresh chopped coriander leaves, to garnish
2 tbsp soured cream, dolloped on at the end
1. To make the chilli, brown the mince in 1 tbsp oil in a large frying pan. Drain in a sieve and put aside.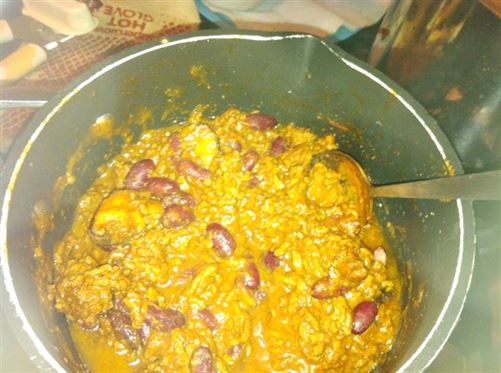 2. Wipe the pan, add the other tbsp oil, then gently cook the onions and garlic until soft, approx, 5-6 mins.
3. Add the spices, plus salt and pepper, and gently fry for 1-2 mins.
4. Return the mince to the pan, then add the tomatoes or passata and kidney beans. Add the Marmite and Worcestershire sauce. Mix thoroughly and bring to a simmer. Transfer to a slow cooker and cook of Low for 3-4 hours, or in a casserole dish and put in the oven at 160C/Gas 3 for 2 hours. At this stage, you can cool it and transfer to sealable containers and put in the fridge overnight to let the flavours develop for the final stage.
5. When youre ready, transfer the chilli to a large saucepan and add the mushrooms and drinking chocolate. Heat through until the mushrooms soften, approx. 7-8 mins. Finish with a knob of butter to make the sauce silky and smooth. If the sauce is too liquid, rapidly boil for a couple of minutes to reduce.
6. Lay out four tortilla wraps on an oiled baking sheet. Pile a quarter of the chilli into the centre of each wrap. Fold over each wrap to make a parcel. Use a little water to make the edges stick.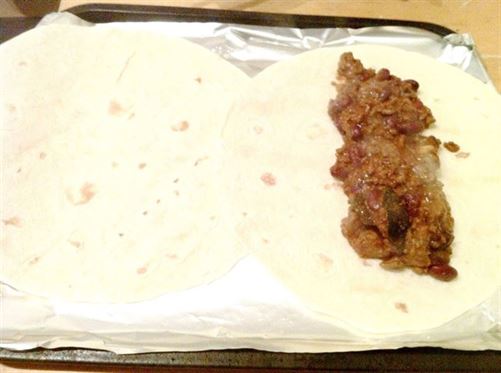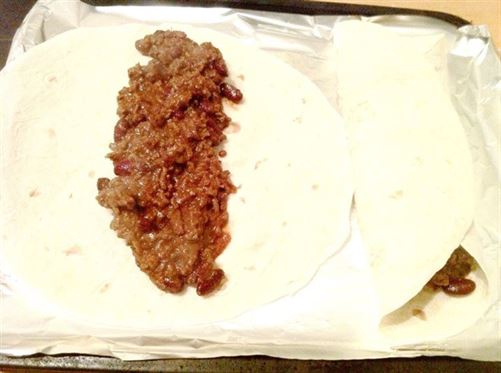 7. Turn a grill up to high and divide the cheese over the wraps. Grill for a couple of minutes until the cheese melts.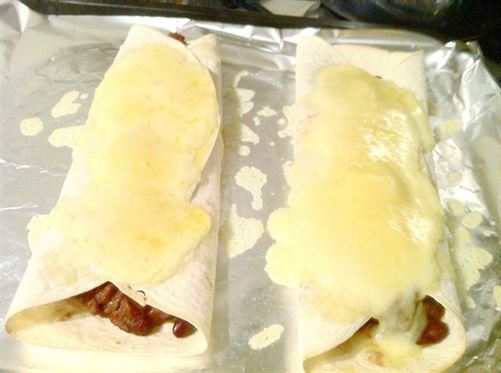 8. Serve with fresh coriander leaves and a dollop of soured cream.