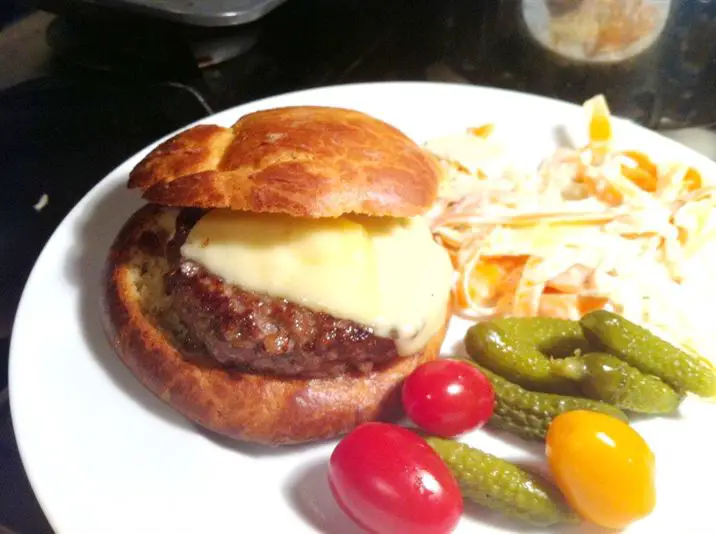 I cannot tell a lie. This is not my recipe. Rather, I have adapted it from Felicity Cloake, of the Guardian, who tested different methods before arriving at this one, which she has named Perfection. And shes not wrong. The burger patty was superb loose and moist, with great charring on the outside. The twist is the addition of Guinness, which gives the burgers great depth of flavour.
Ive served these on homemade brioche buns (the bun of Heston Blumenthals choice). The sweet butteriness of the soft brioche really creates great mouth feel with the juicy burger. Use a good melting cheese, such as this nutty Jarlsberg, or a Gruyere. Serve with gherkins and a simple coleslaw, made from shaved carrots, shaved apples and mayonnaise, salt and pepper.
Makes 4-6 burgers
1 tbsp oil or butter
1 large onion, finely chopped
1kg roughly minced chuck steak (or any non-lean mince)
100ml stout
2 tbsp brown breadcrumbs
2 tsp chopped herbs (parsley or thyme work well)
1 tsp salt
Black pepper
Garnishes, sauces and rolls, as desired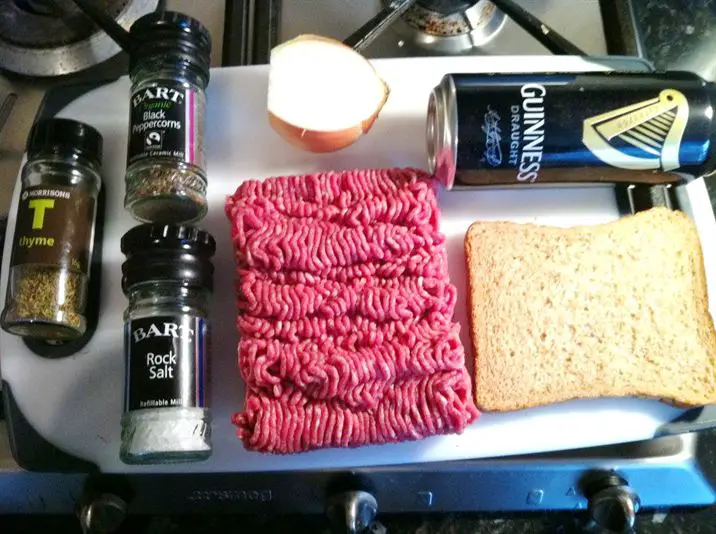 1. Heat the oil in a frying pan over a low heat, and cook the onion until soft and slightly browned. Leave to cool.
2. Spread the beef out and sprinkle over the onion. Add the stout, breadcrumbs, herbs and seasoning and mix together with a fork, being careful not to overwork it.
3. Divide the meat into 12 flattish burgers, putting a dimple in the centre of each. Cover and refrigerate for an hour.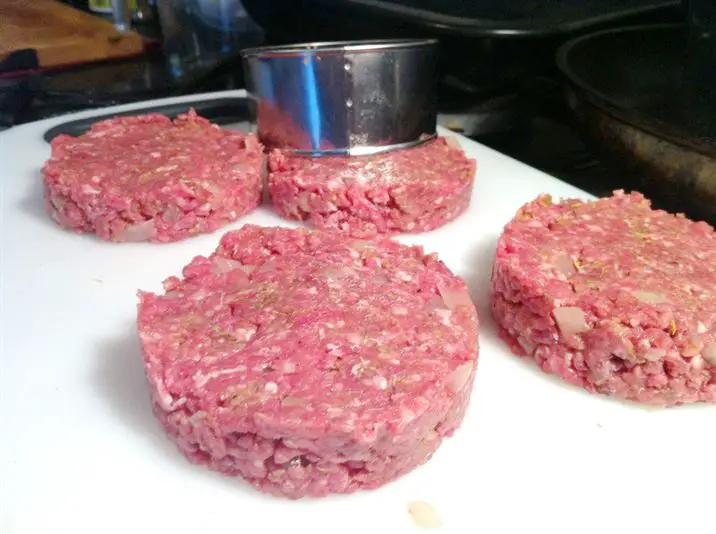 4. Cook the burgers on a medium to hot barbecue or griddle pan: leave them undisturbed for the first 3 minutes so they build up a good seal on the bottom, then carefully turn them over, adding a slice of cheese on top if desired. Cook for a further 4 minutes for rare, and 7 for well done, and allow to rest for a few minutes before serving. (You can toast buns, cut-side down, on the barbecue at this point.)