The idea for this dish was inspired by the leftovers in the fridge: half a packet of lean steak mince, half a chorizo sausage, half a can of chopped tomatoes, a couple of dollops of creme fraiche and the gnarly end of some Cheddar cheese. Add a stock cube, a teaspoon each of chilli powder, cumin powder, ground cinnamon and black pepper, half a teaspoon of dried paprika, 2 tsps dried oregano, chopped onion and garlic and Bobs your dads brother.
The result is a deep, smoky chilli that, I have to confess, is a bit of an acquired taste. Creme fraiche and chopped fresh coriander leaves are essential to give it a freshness at the finish, with a grating of strong Cheddar as optional.
Serves 2-4
Ingredients:
All of the above in whatever quantities you have them this is a dish you cant go wrong with.
1. Put a little oil in a large, heavy-based frying pan and brown the mince all over. Remove the skin from the chorizo, chop into small chunks and add to the mince. Cook for 4-5 mins, until the paprika-red oils from the chorizo start to ooze out.
2. Drain the mince and sausage and set aside. Wipe the pan clean, add another tablespoon of oil, then gently cook 1 chopped onion and 3 chopped garlic cloves for 4-5 mins, until soft.
3. Return the mince and chorizo to the pan. Stir in the chilli, pepper, paprika and oregano. Add half a tin of chopped tomatoes and a squirt of tomato puree. Dissolve a beef stock cube in a cup of water and add this, too. Bring to the boil for a few mins to slightly reduce, then transfer to a slow cooker.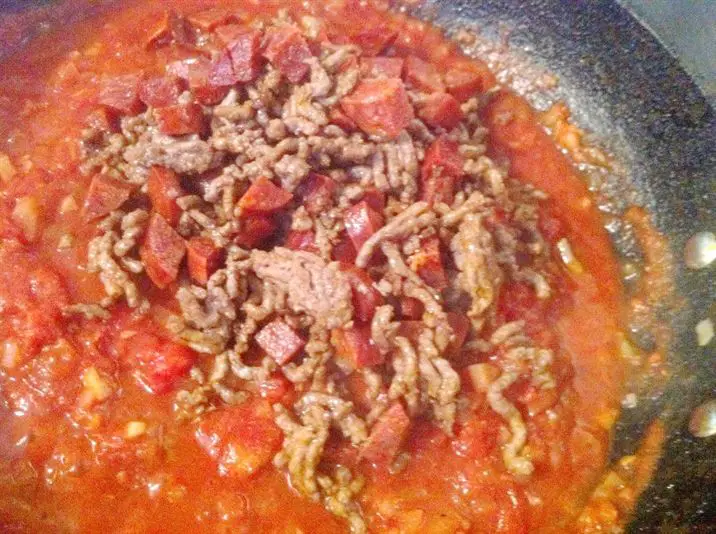 4. Cook on LOW for 2-3 hours, until the mince is tender and the chorizo is soft. If too watery, transfer to a saucepan and cook on high, constantly stirring, to reduce the sauce. Add 1-2 tsps sugar to taste (to counteract the saltiness of the chorizo and the stock cube).
5. Serve with a dollop of creme fraiche, grated Cheddar and coriander leaves, with some plain boiled rice.